ViacomCBS Announces Participants of Its Content For Change Academy
 Seven First Time Participants in Partnership with Reel Works Have Been Selected For The Inaugural Class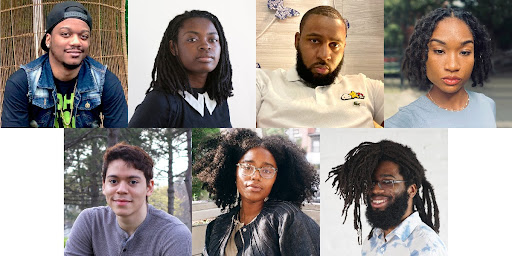 The Academy is part of ViacomCBS' company-wide Content for Change initiative that seeks to apply scientific research, rigor, and data to transform the entire creative ecosystem
New York, NY – November 9th  2021 – ViacomCBS today announced the inaugural class of its newly launched Content for Change Academy, a talent program that aims to remove barriers to entry for new storytellers, build equity, and invest in the industry's next generation of leaders from nontraditional pathways, including individuals from community colleges and certification programs, who are historically marginalized from entry into the entertainment industry. 
To identify this initial class, ViacomCBS has partnered with Reel Works, a Brooklyn-based organization that provides emerging storytellers in underserved communities with mentorship for careers in media, and their MediaMKRS workforce development program. The MediaMKRS program aims to build a talent pool that reflects the diversity of New York City by credentialing young professionals and matching them with on-the-job training opportunities at a number of media organizations, including ViacomCBS.
The Content for Change Academy will provide these individuals with paid experience in entry-level creative and production roles – without the need for enrollment in traditional four-year colleges or universities – allowing them to learn the skills for a successful career in entertainment and build their portfolios, with the goal of staff placement upon the program's completion. The Academy will scale to support storytellers on the West Coast and explore additional cohorts on an ongoing basis.
The Content for Change Academy is part of ViacomCBS' company-wide Content for Change initiative that seeks to apply scientific research, rigor, and data to transform the entire creative ecosystem across three pillars – 1) the content the company produces 2) the creative supply chain that powers it and 3) the culture that underpins everything ViacomCBS does. It is part of ViacomCBS' early career pipeline recruiting initiative and reflects the focus of Content for Change on systemically transforming the creative supply chain, with a renewed emphasis on hiring emerging talent and moving to new paradigms that inject equity into talent pipelines.  It joins ViacomCBS' longstanding slate of programs to broaden the creative talent pool, including the company's ViewFinder Emerging Directors Program, Directing Initiative, and Writers Mentoring Program.
"It is critical to open up nontraditional pathways and evolve our early career hiring models to further break down the systemic barriers that impact the representation of marginalized communities in our industry," said Crystal Barnes, SVP, Corporate Social Responsibility and Environmental, Social and Governance at ViacomCBS. "Just think of all the stories that have yet to be told just because these creators haven't had the access or opportunity to join our industry through traditional talent pipelines. Through the Content for Change Academy, we are building on ViacomCBS' longstanding efforts to break down these barriers, further inclusion and equity, and diversify representation to write the next chapter of inclusive storytelling in the entertainment industry." 
"We are thrilled that the innovators at the helm of the Content for Change initiative have chosen Reel Works as their partner in carrying out their mission to help diverse young storytellers realize their full creative potential," said Keisha Katz, Director of Workforce and External Partnerships at Reel Works. "Part of our responsibility as a film education and workforce development program is to act as a network of support and guidance for our students beyond just the walls of our classrooms. We are proud to provide our alumni with the opportunity to continue building their professional skill sets by matching them with the qualified talent at ViacomCBS' stand out networks and brands."
The below seven storytellers are joining this inaugural class across BET, CBS Sports, CBS Studios, Nick Jr., Paramount Network, Showtime and Velocity:
Dominick Berry – Paramount Network
Dominick Berry is an aspiring screenwriter, film producer and content creator from Harlem, New York, with an extensive background in film accounting. As part of the Content for Change Academy, he is working as a trainee in production management at Paramount Network.
Brianna Cousins – Velocity
Brianna Cousins grew up in the Bronx, New York, and started writing at the age of nine. She graduated from Bronx Community College in December 2020 and is a trainee at Velocity's Creative & Production group, focused on every phase of development and branded content production across all platforms and channels for ViacomCBS and its advertising partners.
Shamar Darden – CBS Sports
Shamar Darden is a born-and-bred New Yorker following his dreams for a career in the film & television industry. He's worked both in the office and on the set of various television shows and, before the pandemic, could be found at the movies every weekend and binge-watching hundreds of hours of TV. As part of the Content for Change Academy, Shamar is working on the production and post-production of long and short-form original content for CBS Sports.
Tenia Hardy – BET
Tenia Hardy is a writer and Reel Works Alumni, who writes stories centered on Afro-futurism and fantasy. She is currently a trainee on BET's Brand Creative team, which produces all the on-and off-air, digital and social content to promote BET Networks. 
Marvin Hernandez – CBS Studios
Marvin Hernandez is a Reel Works alumnus, who has also been part of various apprenticeships, including with the Red Hook Initiative, Little Monster Films and The Artist Co-op. As part of the Content for Change Academy, he's working on the production team for the third session of Evil.
Georgia-Rae Lyken – Showtime
Georgia-Rae Lyken was born and raised in Brooklyn, New York. Her passion for film and television began in high school, and with the help of Reel Works, she was given the resources and tools to begin actualizing a career in the entertainment industry, with a focus on media production. She is currently working on the Marketing Operations team that's part of the Creative Marketing department at Showtime Networks. 
Anfernee Villaroel – Nickelodeon
Anfernee Villaroel is a New Yorker who graduated from Kingsborough Community College and the MediaMKRS Career Exploration Program. As part of the Content for Change Academy, Anfernee is training with the artists, coordinators, production managers and producers for Nick Jr.'s Blaze and The Monster Machines.
Additional information about ViacomCBS' Content for Change initiative can be found here.
About ViacomCBS 
ViacomCBS Inc. (NASDAQ: VIAC; VIACA) is a leading global media and entertainment company that creates premium content and experiences for audiences worldwide. Driven by iconic consumer brands, its portfolio includes CBS, SHOWTIME, Paramount Pictures, Nickelodeon, MTV, Comedy Central, BET, Paramount+ and Pluto TV, among others. The company delivers the largest share of the television audience in the United States and one of the industry's most extensive libraries of television and film titles. In addition to offering innovative streaming services and digital video products, ViacomCBS provides powerful capabilities in production, distribution and advertising solutions. 
For more information about ViacomCBS, please visit www.viacomcbs.com and follow @ViacomCBS on social platforms.
About Reel Works
Founded in 2001, Reel Works serves over 1,000 youth annually from middle school through high school and beyond, developing them as young artists and citizens and helping them graduate, get into college, and launch careers in media. Reel Works is the only filmmaking program that matches teens 1:1 with professional filmmaker-mentors to tell their stories and have their voices heard. It's a powerful combination that changes young lives while creating startling and original films that have been seen by millions of viewers worldwide. Through our MediaMKRS workforce development program, we partner with industry leaders, educators and government agencies to create pathways from classrooms to careers for talented young filmmakers to build a media workforce that looks like NYC.