PARAMOUNT GLOBAL CHAIR SHARI REDSTONE RECEIVES THE SIMON WIESENTHAL CENTER HUMANITARIAN AWARD
In recognition of her steadfast dedication in the fight against anti-Semitism and hate, Paramount Global Chair Shari Redstone was given the Simon Wiesenthal Center's (SWC) Humanitarian Award, the organization's highest honor, at its 2023 National Tribute dinner on Wednesday, May 10.
In accepting the award, Ms. Redstone discussed her shared belief with the SWC in the role of education as the most powerful tool in confronting hate, as well as the urgent need to drive change with the extreme proliferation of intolerance and discrimination against Jews and other diverse groups in the U.S. and worldwide.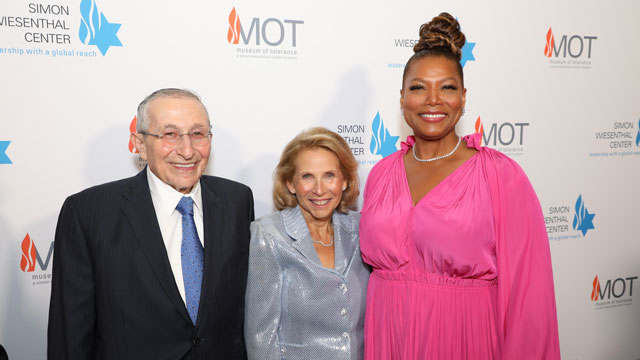 Founded in 1977 by Rabbi Marvin Hier, the SWC is one of the world's largest organizations dedicated to confronting anti-Semitism, hate, and terrorism, including teaching the lessons of the Holocaust. The Wiesenthal Center is an accredited NGO at the United Nations, UNESCO, the Council of Europe, and other global organizations. The Museum of Tolerance in Los Angeles, the SWC's educational arm, has hosted over 7.5 million visitors since its founding in 1993 including more than 3.5 million children and youth.
Ms. Redstone was honored alongside three Medal of Valor recipients: Selvino, a small Italian town which sheltered 800 Jewish children orphaned in the Holocaust; the women of Iran who joined together to stand up to the Iranian regime and were represented by Lisa Daftari, an investigative journalist focused on the Middle East and counterterrorism; and Frank Sinatra, who was honored posthumously for his support of the Jewish people in the earliest years of the State of Israel.
In her remarks accepting the award, Ms. Redstone highlighted the importance of identifying powerful ways to address rising anti-Semitism, racism, and hate: "We need only look at history to understand the devastating impact that these forces have, especially when coupled with a weakening of our democratic institutions, such as we are experiencing today."
Ms. Redstone discussed the educational programs she is developing alongside experts with the goal of addressing the accelerating spread of intolerance. The programs teach children beginning in preschool to, as she says, it "love before they learn to hate." And she concluded with a call to action to stand up to bigotry and division: "I ask all of you to join me on this journey and to create the world we all want for our children, our grandchildren, and generations to come."