SEPTEMBER 19, 2022
By Kelby Clark
An immersive, multi-platform campaign engaged audiences during the breakout comedy's off-season.
It was a spooky summer for CBS. The network created an immersive, multi-platform campaign to keep fan excitement alive for Ghosts, the breakout comedy whose first season aired on CBS and Paramount+ last year.
On CBS, it attracted an average of 8.4 million total broadcast viewers and was the #1 new broadcast series. It's also the #1 comedy on Paramount+, where the first season is still available on-demand.
"When you have a smash-hit like Ghosts, you have to evolve your strategy to keep fans engaged and excited about what's ahead," says CBS President and CMO Mike Benson. "Our Season 1 campaign focused on bringing 'ghosts to life' and introducing the characters of the show to audiences everywhere. And for the second season, we decided to go a step forward and give the now-massive and vibrant fan base even more of what they love about the show while also bringing in new audiences in an exciting way that's both innovative and authentic to the show."
The campaign, dubbed "Summer of Ghosts," included experiential activations focused on each character, as well as social content, and a first-of-its-kind haunted mansion metaverse game that held special appeal for new audiences.
---
Ghosts IRL … and On Paramount+
Nicole Manos, brand director at CBS, says the show's biggest draw are its ghostly characters. Ghosts fans are part of an active social media community—posting about characters, searching for Easter eggs in episodes, trailers, and interviews with showrunners Joe Port and Joe Wiseman, and speculating about plot developments.
The CBS marketing team created a campaign that would keep current fans of the show engaged and excited for the fall premiere, while also inviting new audiences to catch up on the first season on Paramount+ in-time for the premiere of the second season in September.
The campaign launched at the Paramount Upfront in May. The cast appeared on the stage at Carnegie Hall and performed a musical number through the voice of character Isaac Higgintoot who loves the theater.
"When you have a smash-hit like Ghosts, you have to evolve your strategy to keep fans engaged and excited about what's ahead."

Mike Benson

CBS President and CMO
Other events included a campsite activation at San Diego Comic-Con in honor of scout leader ghost Pinecone Trooper Pete; a flower-themed Los Angeles experience in June to celebrate the '60s bohemian character, Flower; a launch party event for character Hetty's book of social "Hetty-quette"; and a pop-up museum in honor of character Alberta Haynes in the town of Altoona, Pennsylvania.
Each activation featured limited-edition collectible character NFTs, as well as promo codes for a month-long subscription to Paramount+ where viewers can watch the show's first season on-demand.
Luring New Fans With a Metaverse Mansion
The CBS marketing team invited audiences further into the Ghosts world with a metaverse activation that launched on the day of the Ghosts San Diego Comic-Con panel. The game allowed users to virtually access the grounds of the show's Woodstone Mansion and served as an opportunity to engage with a young audience in a new, innovative way.
Manos and her team partnered with marketing agency CreativeDepartmint to build the virtual experience in Web3 gaming platform Decentraland. In just the first 48 hours of Woodstone Mansion launching, more than 2,000 users visited.
"In re-creating the mansion, CreativeDepartmint mirrored the series' sets, and featured the show's characters, voiced by the series stars," adds Manos. "The metaverse allowed us to take the authenticity to a new level in a way that would delight and excite current fans, but also give new audiences a sense of the series' world." The activation also featured the additional release of the 10 character-specific exclusive collectible NFTs—4,000 of which were collected by users—that unlocked further mini-games and puzzles within the experience. Fans spent more than 2,000 hours engaging with the experience.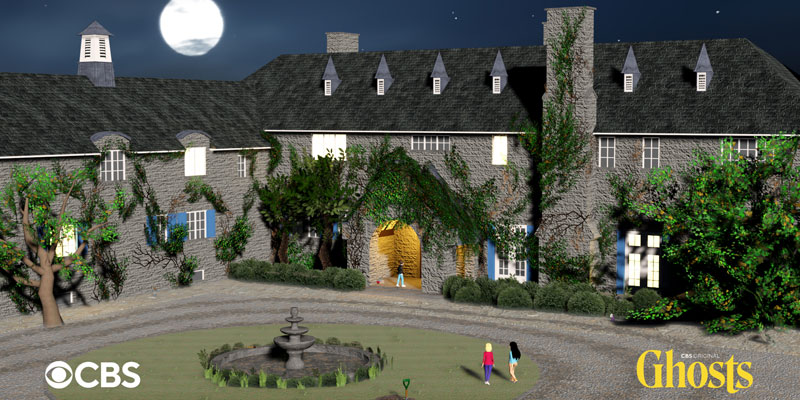 The activation connected to new and young fans. In total, more than 90 percent of users were unfamiliar with the series before engaging in the activation.
"This show is so different from anything else we have on CBS," says Manos. "We're extremely focused on bringing in new fans to the show because we know there's a huge, untapped audience who would love this show."
---
Season 2 of CBS' Ghosts premieres Thursday, Sept. 29 at 8:30 PM, ET/PT on CBS. The entire first season is available to stream on demand on Paramount+.
---